Updates in Occupational Health Nursing
June 6-7, 2018
Ann Arbor, MI
Jointly provided by:
The American Association of Occupational Health Nurses (AAOHN)
Advance registration for this course has ended. To inquire about availability email ce.programs@umich.edu
Description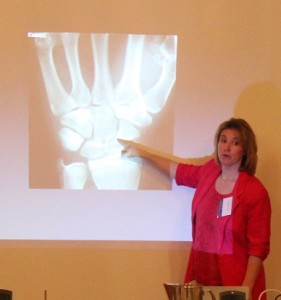 This two-day course is designed to update the occupational health nurse regarding the assessment, intervention and evaluation of common problems encountered in the work setting. Topics will include chest pain, respiratory ailments, head injuries, penetration/foreign body injuries, musculoskeletal strains and sprains, skin lacerations, mental health, thermal injuries and infectious disease exposure. The program will also include introductory ergonomics principles so the occupational health nurse can identify the work-related risk factors of musculoskeletal disorders and recommend basic workplace changes. Components of a comprehensive wellness program will be described.
Outcomes
Following this program, the attendee will be able to assess patients with selected presenting conditions. Attendees will identify protocols and guidelines for management to include emergent and stabilization measures and treatment of occupational health conditions in the presence of existing co-morbidities. Appropriate documentation will also be covered.
Who Should Attend
This program is intended for occupational health nurses or other clinicians who provide direct health care services for workers. This program should be particularly valuable for service providers staffing medical stations or clinics within worksite facilities or plants.
SUMMARY OF TOPICS
Common Musculoskeletal Injuries Small and large joint musculoskeletal injuries commonly found in occupational health settings will be discussed
Ergonomics The workplace risk factors associated with musculoskeletal disorders will be described
Head Injuries Current assessment, treatment and evaluation guidelines for brain contusion and concussion will be covered
Dermatological Concerns: Lacerations, Thermal and Chemical Injuries Current assessment, treatment and evaluation guidelines for the management of selected dermatological traumas will be discussed
Chest Pain: Sorting Through the Diagnostic Picture Comparing and contrasting emergent and non-emergent chest discomfort in the occupational health setting will be discussed. Subsequent management guidelines will be reviewed
Respiratory Ailments Current management practices and medical guidelines in selected common occupational health respiratory conditions will be covered
Infectious Disease Exposure National guidelines and protocols addressed related to common infectious disease concerns
Penetration Injuries Emergent care in penetration injuries occurring in occupational health settings will be discussed
Addressing Mental Health Depression and anxiety are two common mental health concerns in the workplace. Screening, assessment, intervention, referral and follow-up of these illnesses will be discussed
Wellness Programming Components of a comprehensive wellness program will be described
GENERAL INFORMATION
Location
Holiday Inn Near the University of Michigan, 3600 Plymouth Road, Ann Arbor, MI 48105, 734-769-9800
Times (exact times are subject to change)
Wednesday, June 6: Registration check in 8:30 am; program start 9:00 am; program end 5:00 pm
Thursday, June 7: Program start 8:30 am; program end 4:30 pm
Registration Fee
$500.00 registration; $400.00 Early-bird registration (until May 9, 2018)
Registration fee includes course materials, continental breakfast, and refreshment breaks. Lunch will be on your own. A certificate of completion will be awarded when attendance requirements are met.
Advance registration is required and will be accepted on a "first come-first served" basis. Registration confirmation will be provided via email after your registration has been processed. If you do not receive confirmation within one week of registration, please email: ce.programs@umich.edu or call 734-763-2243.
To Register
Advance registration for this course has ended. To inquire about availability email ce.programs@umich.edu
Cancellation Policy
Written cancellation notification must be received no later than May 22, 2018 in order to qualify for a refund, less $75.00 administrative fee. Substitute attendees are welcome. In the unlikely event that this program must be cancelled, the entire submitted registration fee will be refunded without further liability on the part of the organizers.
Hotel Accommodations
A limited number of hotel rooms are available for $114.00/night for program attendees until May 22, 2018 at the Holiday Inn Near the University of Michigan, 3600 Plymouth Road, Ann Arbor, MI 48105. Please contact the hotel directly at 734-769-9800 to make a reservation, stating that you are a registrant with U of M Center for Ergonomics. Attendees are responsible for making their own hotel arrangements and payment.
PROGRAM PLANNERS AND/OR SPEAKERS
Sherry M. Bumpus, PhD, FNP-BC
Associate Professor
Eastern Michigan University School of Nursing
Sheryl Ulin, PhD, CPE
Director of Continuing Education
University of Michigan Center for Occupational
Health & Safety Engineering
Anne C. Thomas, PhD, ANP-BC, GNP, FAANP
Associate Dean
Michigan State University College of Nursing
Marjorie McCullagh, PhD, RN, APHN-BC, COHN-S
Associate Professor, Director of Occupational
Nursing Program
University of Michigan School of Nursing
Kathleen Buckheit, MPH, BSN, RN, CEN, COHN-S/CM, CCM, FAAOHN AAOHN representative
ACCREDITATION
The American Association of Occupational Health Nurses, Inc. (AAOHN) is accredited as a provider of continuing nursing education by the American Nurses Credentialing Center's Commission on Accreditation.
The American Association of Occupational Health Nurses, Inc. is additionally approved as a CNE provider by the California Board of Registered Nursing (#CEP9283).