2016 COHSE Research Symposium
This symposium showcases the latest occupational health and safety research from our graduate students and Pilot Project Research Training Program (PPRT) recipients. The 2016 symposium also featured Keynote Speaker Melissa Millerick-May, a former PPRT recipient who is an Assistant Professor of Medicine at Michigan State University's Division of Occupational Medicine.
Congratulations to the 2016 Award Winners!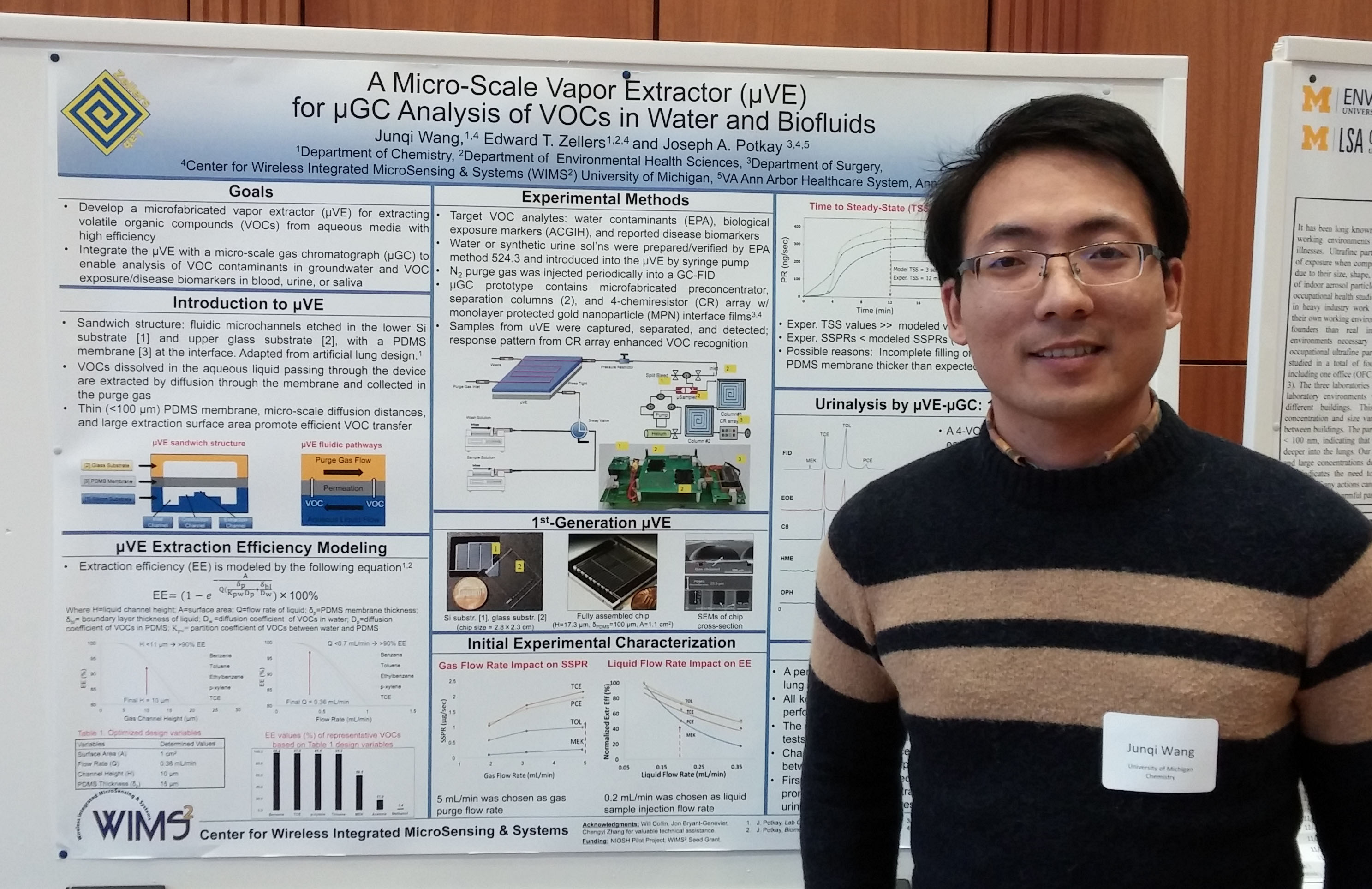 COHSE Director's Award – Junqi Wang
Micro-Scale Vapor Extractor for Micro-GC Analysis of VOCs in Aqueous Phase
Former PPRT Project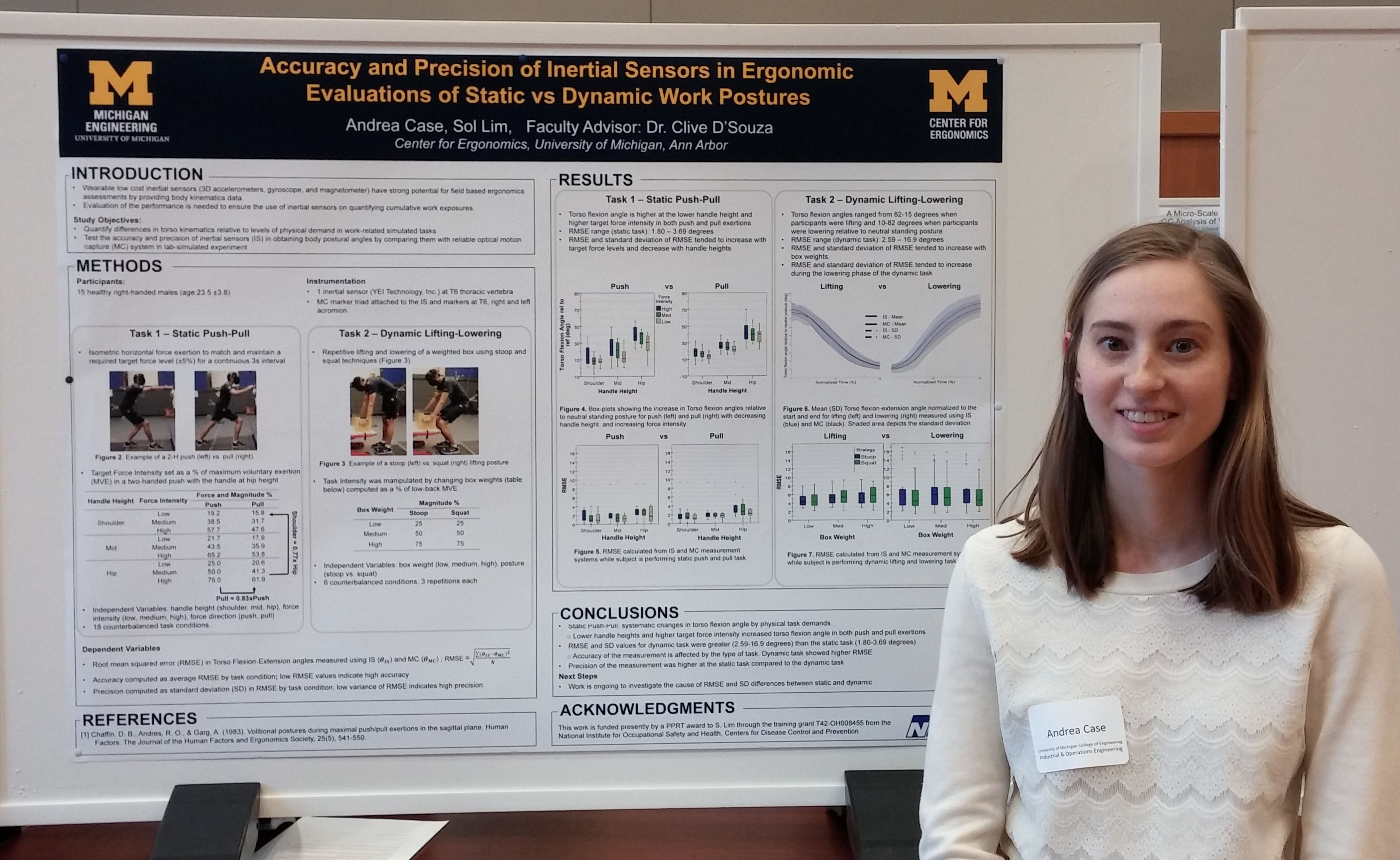 People's Choice Award – Andrea Case
Accuracy and Precision of Inertial Sensors in Ergonomic Evaluations of Static vs. Dynamic Work Postures
Keynote Speaker
Melissa Millerick-May, Former PPRT Recipient
Assistant Professor of Medicine
Michigan State University
Division of Occupational Medicine
Keynote Address: "From Industry to Academia – The Ongoing Quest to Identify the Offending Antigen"
Abstract: Hypersensitivity Pneumonitis (HP) is a serious, potentially fatal respiratory disease caused by an immune response to inhaled environmental antigens. Patients with acute symptoms are often misdiagnosed with pneumonia or after repeated exposures and development of scarring may be incorrectly diagnosed as having idiopathic fibrosis or sarcoidosis. To identify antigens, standard clinical test are currently available that detect serum antibodies to 3-8 antigens in contrast with the ~300 known to cause disease. Results of our preliminary studies indicate that a cross-disciplinary patient-centered approach is more effective for identifying the offending antigen(s) than what is currently available to clinicians, results from which may be used to develop targeted exposure avoidance plans potentially allowing for reversal or stabilization of disease.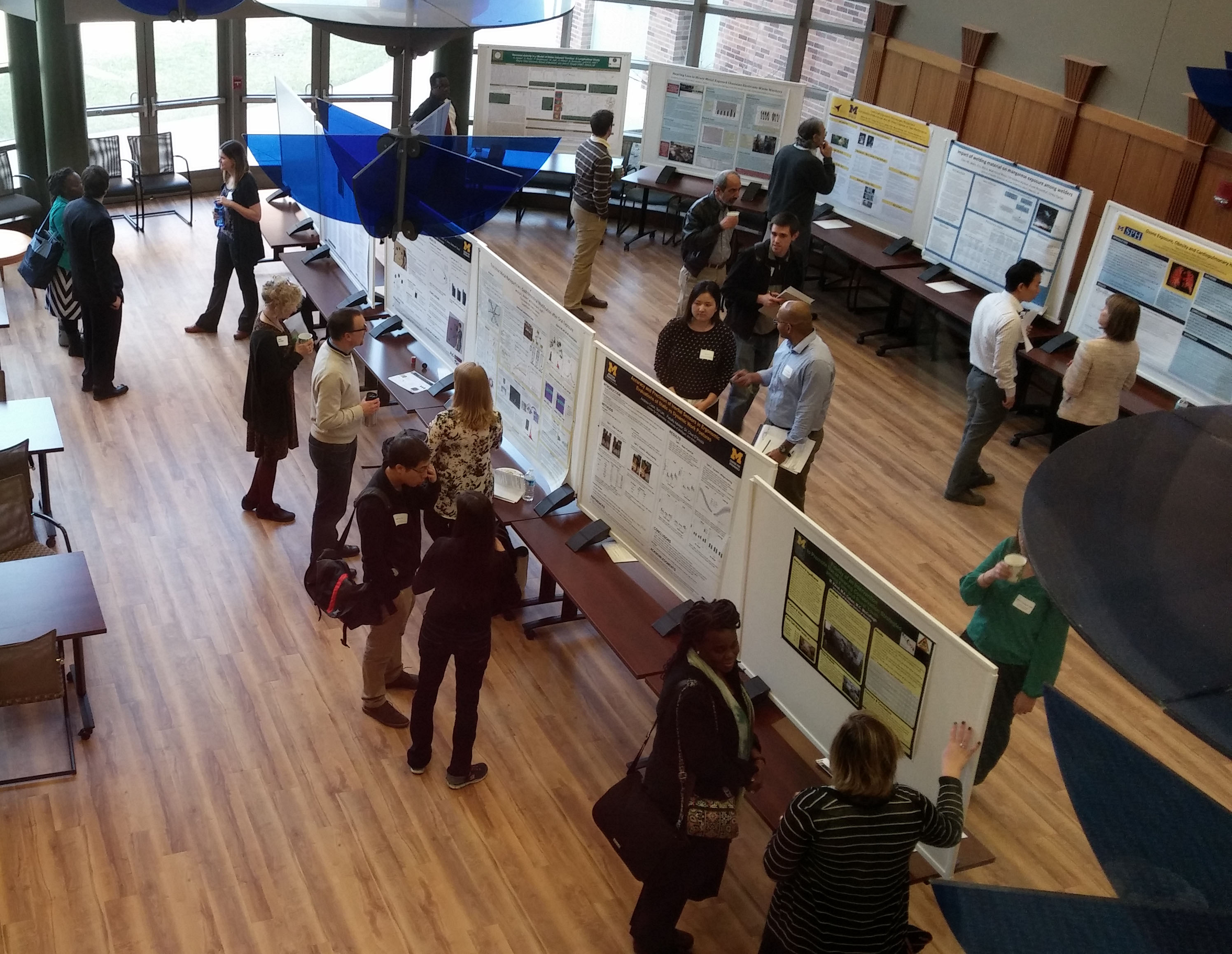 Posters:
A. Apawu*, A. Muca, F. Ghoddoussi, M. Hali, S. Wilson, A.T. Cacace, B. Berkowitz, A.G. Holt*
*Department of Anatomy & Cell Biology, School of Medicine, Wayne State University
Neuronal Activity in a Model of Noise Induced Tinnitus: A Longitudinal Study
Yadianna Acosta-Sojo*, Bernard J. Martin
*University of Michigan Department of Industrial and Operations Engineering
Sense of effort: right and left hand sensitivity to proprioceptive feedback
Jessica Axson*, Andrew Ault
*University of Michigan Department of Environmental Health Sciences
Transition Metal Nanoparticles: Gastrointestinal Modification after Oral Exposure
Current PPRT Project
Krystin Carlson*, Richard L. Neitzel
*University of Michigan Department of Environmental Health Sciences
Hearing in Heavy Metal Exposed Ghanaian Electronic Waste Workers
Former PPRT Project
Andrea Case*, Sol Lim, Clive D'Souza
*University of Michigan Department of Industrial and Operations Engineering
Accuracy and Precision of Inertial Sensors in Ergonomic Evaluations of Static vs. Dynamic Work Postures
Justin Haney*, Mary Owczarczak, Clive D'Souza, Monica L. H. Jones, Matthew P. Reed
*University of Michigan Department of Industrial and Operations Engineering
Effects of Task Variables on Hand Movement Kinematics during Sequential Precision Reach Tasks
Patricia D. Koman*, Peter Mancuso
*University of Michigan Department of Environmental Health Sciences
Ozone Exposure, Obesity, and Cardiopulmonary Health
Madison Koval*, Michael A. Cohen, Marjorie C. McCullagh
*University of Michigan School of Nursing
Fidelity of an Intervention to Promote Use of Hearing Conservation Strategies for Farm and Rural Youth
Sol Lim*, Andrea Case, Clive D'Souza
*University of Michigan Department of Industrial and Operations Engineering
Development of Classification Algorithm for Estimating Physical Task Demands Using Inertial Sensors
Current PPRT Project
Mary Owczarczak*
*University of Michigan Center for Ergonomics
Validating a Static Hand Grasp Posture in Precision Reach Task
Benjamin Roberts*, Richard L. Neitzel
*University of Michigan Department of Environmental Health Sciences
Utilizing smart devices to measure intermittent noise exposure in the workplace
Current PPRT Project
Stephanie Kay Sayler*
*University of Michigan Department of Environmental Health Sciences
Predicting Exposures to Respirable Silica from Noise Exposures among Stone Processing Workers
JoonOh Seo*
*University of Michigan Department of Civil and Environmental Engineering
Biomechanical Analysis and Visualization for Ladder Climbing Activities
Former PPRT Project
Hongru Shen*, Daniel Gardner, Jessica Axson, Andrew Ault
*University of Michigan Department of Environmental Health Sciences
Seasonal variations of ultrafine particles in different laboratory workplace settings
Former PPRT Project
Feng-Chiao Su*, Stephen Goutman, Bhrmar Mukherjee, Brian Callaghan, Stuart Batterman, Eva Feldman
*University of Michigan Department of Environmental Health Sciences
Amyotrophic Lateral Sclerosis, Occupational Risk Factors and Exposure Windows: A Case-Control Study in Michigan
Former PPRT Project
Junqi Wang*, Edward T. Zellers, Joseph A. Potkay
*University of Michigan Department of Chemistry
Micro-Scale Vapor Extractor for Micro-GC Analysis of VOCs in Aqueous Phase
Former PPRT Project
Ellen M. Wells, Eric Ward, Mahmoud Nour, Christelene Horton*, Frank Rosenthal, Ulrike Dydak
*Purdue University
Impact of welding material on manganese exposure among welders
Current PPRT Project
Denny Yu*, Cooper Green, Jackie Cha, Steven Kasten, Thomas Armstrong
*School of Industrial Engineering, Purdue University
Design of Low-Cost Ergonomic Microsurgery Equipment: Comparison of Microscope and 3D Video Displays on Ergonomics and Task Performance
Former PPRT Project
Changhua Zhan*
*University of Michigan Department of Environmental Health Sciences
Plasmonic Nanoparticle Films as Multi-variable Vapor Sensors and µGC Detectors
Current PPRT Project