Warren Cook Health and Safety Discussional
November 7-8, 2019 • Ann Arbor, MI



Description
Following a long tradition at the University of Michigan, the 56th Warren Cook Health and Safety Discussional will consist of one and one-half days of discussion by prominent leaders in the fields of industrial hygiene, health, safety, and environment. Discussion sessions are directed by University of Michigan faculty. The Discussional offers a unique opportunity to share information about issues of contemporary interest to professionals addressing occupational health, safety, environment, and sustainability topics. Participants will be asked to supply questions and topics of interest which will become the basis for discussion.
Attendees will have the opportunity to meet and mentor graduate industrial hygiene students from the University of Michigan during lunch and evening reception. Student résumé books will be available for attendees interested in hiring interns or full-time industrial hygiene professionals.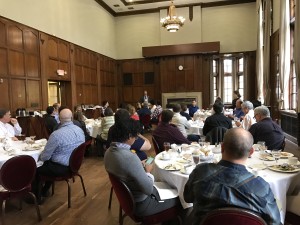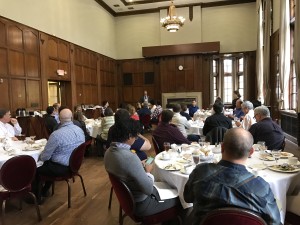 Guest Speaker
"AI Without Trust Endangers Our Society"
Benjamin Kuipers, PhD
Professor of Electrical Engineering and Computer Science, College of Engineering, University of Michigan
Who Should Attend
Attendees are typically professionals whose job responsibilities include addressing, managing or developing policies to govern occupational health, safety and environmental issues in their organizations.
Accreditation
ABIH has previously awarded CM credit for this event. The current event contains 7 hours which can be claimed for CM credit.
Fees

$325.00
$300.00 Early-bird registration (until September 27)
Registration fee includes course materials, continental breakfast, and refreshment breaks. Lunch will be provided on the first day. A certificate of completion will be awarded when attendance requirements are met.

Cancellation notification must be received no later than October 6, 2019 in order to qualify for a refund, less a $75 administrative fee.
Lodging
A limited number of rooms are on reserve at the Inn at the Michigan League. These rooms are being held until October 6. Please mention group code "WaCo19" when making your reservation by calling 734-764-3177.
Additional options for lodging can be found at the Ann Arbor Convention and Visitors Bureau.
General Information
The Warren Cook Health and Safety Discussional will be held November 7-8, 2019 at the Michigan League, 911 North University in Ann Arbor, Michigan. Participants should pick up name badges and conference materials at the registration desk. The registration desk will open at 8:30am on November 7 and will be located on the 2nd floor of the Michigan League.
For more information contact COHSE by email: ce.programs@umich.edu or call 734-763-2243.
The University of Michigan Center for Occupational Health and Safety Engineering is an Education and Research Center funded by the National Institute for Occupational Safety and Health.