An extraordinary shortage of commercially available medical masks and N95 respirators, which the global healthcare community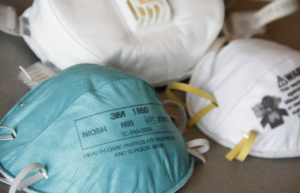 has experienced and continues experiencing during the COVID-19 pandemic, presented several major challenges. Among them are widespread re-use of disposable protective devices, deployment of various methods to decontaminate them, utilization of homemade/improvised masks in an effort to protect workers and general public exposed to the coronavirus, and a lack of fit testing due to tremendous increase of number of mask/respirator wearers. These and other issues were addressed in research conducted by the University of Cincinnati's Center for Health-Related Aerosol Studies.
Presenter
Sergey Grinshpun, PhD
Sergey Grinshpun (PhD in Physics, 1987) is Professor of Environmental Health and Founding Director of the Center for Health-Related Aerosol Studies in the University of Cincinnati. He has served as the PI of about 50 research grants/contracts on measurement and characterization of ambient and indoor aerosols (including workplace PM), exposure assessments, particle dispersion and transport, respiratory protection, air purification, biodefense and biosecurity. Since February 2020, he has been involved in national and international efforts related to mitigation of the COVID-19 pandemic. Dr. Grinshpun has authored and co-authored over 660 scientific publicationsand given about 70 invited lectures globally. He has served on panels convened by the National Academies (USA), the Council of Canadian Academies, the Chinese Academy of Sciences and several US federal agencies. His research results and expert opinions have been frequently featured in the media including ABC News, BBC News, Forbes, Los Angeles Times, National Public Radio, Science Daily, The Wall Street Journal, United Press International, US News and World Report, USA Today, Washington Post, Xinhua Press and others. He has mentored over 50 graduate students and 30 postdoctoral fellows/visiting scholars from 15 countries. Dr. Grinshpun received fifteen awards from national and international associations and agencies.
Register here