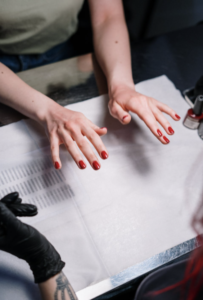 Nail technicians represent an under-studied occupation in terms of health and safety. Current research in this area will bepresented, including chemical exposure measurements, reproductive health surveys, and future goals for community engagement.
Presenter
Darrah Sleeth, PhD, MPH, CIH
Dr. Sleeth is an Associate Professor at the University of Utah Rocky Mountain Center for Occupational & Environmental Health in the Department of Family & Preventive Medicine. She earned a PhD in Industrial Health and an MPH in Industrial Hygiene & Hazardous Substances from the University of Michigan, as well as a BA in Integrative Biology from the University of California, Berkeley. She has also qualified as a Certified Industrial Hygienist (CIH). Her research interests include exposure assessment for airborne respiratory hazards, particle size selective sampling methods, and indoor air quality. Her overall research goal is to improve exposure assessment for occupational and environmental stressors in order to keep workers and the community healthy. Her laboratory work has involved the design of a low speed wind tunnel for controlled exposure studies, which has subsequently been used for air sampler design and testing of both existing and novel air samplers. Her fieldwork is focused on understanding occupational and environmental exposures in a variety of settings, with ongoing collaboration from government, industry and community partners.
Register here