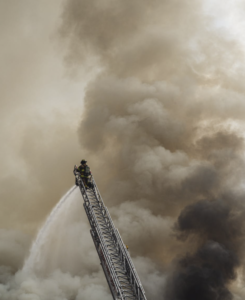 Children are particularly vulnerable to wildfire smoke. Low cost tools for assessing particulate matter exposure are available, but understanding their limitations is critical. Improving indoor air quality is key to decreasing exposure, and there are known health benefits to improving indoor air quality. The use of masks or respirators may also provide some protection from smoke. This webinar will review data on low-cost tools, indoor air quality interventions, and mask and respirator use for protecting children from wildfire smoke exposure.
Presenter
Stephanie Holm, MD, PhD, MPH
Dr. Stephanie Holm is an environmental pediatrician and epidemiologist. She is the Co-Director of the Western States Pediatric Environmental Health Specialty Unit, does research on air pollution effects on children's health and works half time at California EPA in the Office of Environmental Health Hazard Assessment. She got her medical degree from the University of Pittsburgh, did postgraduate medical training at Children's Hospital Oakland and University of California San Francisco, and got her PhD at UC Berkeley. She's been heavily involved in work on health effects of wildfire smoke in children and public health strategies for mitigation for the last couple of years.