NIOSH ERC IH Webinar: Biomonitoring and Risk Assessment: Essential Concepts & Emerging Technology
November 10 @ 3:00 pm

-

4:00 pm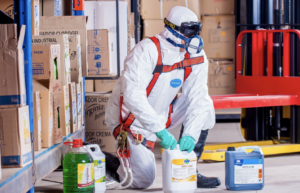 Biological monitoring (biomonitoring) is a method for capturing information on cumulative exposures and health-related effects of chemical and nonchemical stressors. This presentation will examine the rapidly evolving state of biomarker research and application in risk assessment using polycyclic aromatic hydrocarbons (PAHs) exposure as an illustration. The effects of chemical toxicants can be described using the adverse outcome pathway (AOP) framework. An AOP is a sequence of measurable and necessary key events that originates with an initial molecular interaction, progresses through a series of necessary and measurable key events, and culminates with an adverse outcome that is useful for risk assessment. This framework is a powerful tool for risk assessment because it integrates biomarker data with mechanistic and pathway knowledge to describe the transition of system states for different scales of biological organization. New biomarker technologies offer further potential to provide essential information on carcinogenic versus noncarcinogenic modes of action, adaptive verses adverse endpoints, and human relevance of model assays. This presentation will illustrate these essential concepts in a risk assessment context, and will discuss emerging technologies that hold promise for non-invasive human monitoring and high-throughput chemical screening to reduce the need for animal testing. There remains a significant need for biomarkers capable of quantifying exposures to complex chemical mixtures (such as PAH) and to characterize dose-response relationship for key events.
Presenter
Dr. John F. Reichard is Assistant Professor of Toxicology and Risk Assessment in the Department of Environmental and Public Health Sciences (DEPHS) at the University of Cincinnati (UC), and Director of the Biological Monitoring Component of the DEPHS Education and Research Center (ERC). He has doctoral degrees in Pharmacy (PharmD) and Toxicology (PhD) with postdoctoral training at the University of Cincinnati in epigenetics and Boston Children's Hospital in transcriptomic response to hypoxia. Dr. Reichard is also Sr. Pharmaceutical Strategist with NASA Human Health and Performance Directorate (Johnson Space Center), pharmaceutical industry consultant providing human health risk assessment and pharmacokinetic services, and currently serves as a collaborating scientist with the National Institute for Occupational Safety and Health (NIOSH).
Click here to register.