October 21, 2021


Following a long tradition at the University of Michigan, the 58th Warren Cook Health and Safety Discussional will consist of a one day discussion by prominent leaders in the fields of industrial hygiene, health, safety, and environment. Discussion sessions are directed by University of Michigan faculty. The Discussional offers a unique opportunity to share information about issues of contemporary interest to professionals addressing occupational health, safety, environment, and sustainability topics. Participants will be asked to supply questions and topics of interest which will become the basis for discussion.
Attendees will have the opportunity to meet and mentor graduate industrial hygiene students from the University of Michigan. Student résumé books will be available for attendees interested in hiring interns or full-time industrial hygiene professionals.
Keynote Speakers:
Dr. Leia Stirling, Ph.D., University of Michigan
Dr. Robert R. (Bob) Fox Ph.D., GM MEI Ergonomics Group
Keynote Talk Title: "Human Enhancement: Considerations for Exoskeleton Implementations"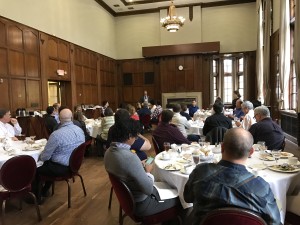 Who Should Attend
Attendees are typically professionals whose job responsibilities include addressing, managing or developing policies to govern occupational health, safety and environmental issues in their organizations.
Accreditation
ABIH has previously awarded CM credit for this event. The current event contains 7 hours which can be claimed for CM credit.
Fees

$200 Regular registration
Registration fee includes course materials.
Cancellation notification must be received no later than September 30, 2021 in order to qualify for a refund, less a $75 administrative fee.

General Information
Due to the increasing case rates from the Delta variant and restrictions on travel being imposed by many organizations, the 2021 Warren Cook Health and Safety Discussional will be transitioned to a fully virtual event. Registration prices will be updated to reflect this transition.

This was a difficult decision but was made in light of the increasing COVID cases, hospitalizations, and short staffing in hospitals in the Ann Arbor area. We know some may be disappointed that we are still unable to gather us all together in-person for this important annual event but hope you understand our decision and are willing to participate virtually.  
 Please be on the lookout for further details on the virtual format. The agenda will likely be adjusted slightly to accommodate for a virtual only event. We will be utilizing the Zoom platform for this program. We appreciate your patience as we work to switch the event to fully virtual and communicate with you all as we make adjustments.  
For more information contact COHSE by email: ce.programs@umich.edu or call 734-763-2243.
The University of Michigan Center for Occupational Health and Safety Engineering is an Education and Research Center funded by the National Institute for Occupational Safety and Health.