NEW COURSE ANNOUNCEMENT!
71ST ANNUAL MICHIGAN INDUSTRIAL VENTILATION CONFERENCE
FEBRUARY 6-10, 2023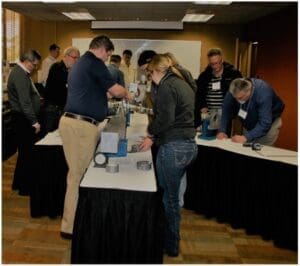 The Michigan Industrial Ventilation Conference will offer a new four-day course of instruction in 2023. The Industrial Ventilation for Non-engineers (IVNE) course has been designed with industrial hygienists as well as facilities and maintenance personnel in mind; those that typically are not responsible for the design of industrial ventilation systems. Unlike the design-based course of instruction offered by the MIVC, more than 40% of the IVNE course will use a collection of demonstrations and hands-on labs to exhibit the principles discussed in various seminars; the design-based courses predominately solve various industrial ventilation system design problems presented in their classrooms.
THE IVNE COURSE IS COMPARABLE TO OTHER SIMILAR COURSES, WITH THE FOLLOWING NOTABLE EXCEPTIONS:
All four-day MIVC courses offer a savings of over $1,000 when compared to other courses. The primary reason for this cost savings is that the MIVC pays none of its instructors. All the MIVC's industrial ventilation experts volunteer their time during the week of the conference. MIVC instructors teach during the week for their love of the topic of industrial ventilation, and their willingness to share their expertise.
MIVC attendees receive more value for their money in that all four-day course attendees receive lunches for each of the four days of class, as well as a banquet dinner.
MIVC courses offer a better instructor-to-student ratio than most other courses to ensure students have every opportunity to learn the presented material.
The MIVC IVNE uses more than 40% of class time on hands-on learning demonstrations and labs using a lab-sized industrial ventilation system. This is more than other similar courses.
The MIVC IVNE course focuses solely on industrial ventilation; other courses use some of their time to address other industrial hygiene topics.
The MIVC will continue to offer its prior four-day courses of instruction on industrial ventilation system design (Phase 1, Phase 2, and Nonstandard Air) and its Managing Industrial Ventilation Systems course. Also, in addition to its two prior workshops (Combustible Dusts and Industrial Ventilation System Troubleshooting), the MIVC will offer a new workshop for 2023: Computational Fluid Dynamics (CFD).
More information:     Gregg Grubb at 517-819-5986 or Grubb.Gregg@Gmail.com
                                    Suzy Carter at 517-204-3687 or info@michiganivc.org
Website:  www.michiganivc.org
In partnership with:
Michigan Occupational Health and Safety Administration (MIOSHA)
University of Michigan Center for Occupational Health & Safety Engineering