Registration is open for the 2022 University of Michigan Depression on College Campuses Conference: Acknowledge, Reflect,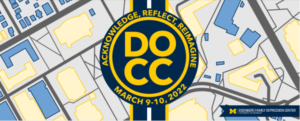 Reimagine. The conference will explore the regeneration of the work of mental health and wellbeing on college campuses after COVID-19.
With the onset and prolonged pandemic, colleges and universities were forced to make enormous adjustments to the way they provided academic and health services. The conference aims to examine the lessons learned from conceptual framework and concrete changes related to virtual and hybrid learning models and consider how we can be reactive in the short-term alongside some of more long-standing changes to the ways we think
about and support student wellness in a holistic and equitable way.
Fees:
Professionals: $175
(Registration fee increases to $200 on Jan. 12)
Students: FREE
(this applies to all students, at any level, from any campus)