Using the 3D Static Strength Prediction Program™ – Contact us if interested in online offering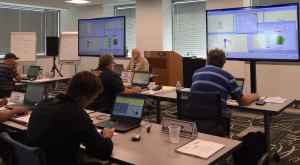 Contact us if interested in online offering. 
Manual materials handling activities present significant ergonomic challenges for workers and is associated with many musculoskeletal disorders such as strains, sprains and low back pain. The 3D Static Strength Prediction Program™ (3D SSPP™) is an ergonomics job analysis and design tool developed by the University of Michigan Center for Ergonomics to quantify biomechanical requirements during manual materials handling tasks. This 2 day workshop is devoted to training individuals with an ergonomics background how to use the computer software and interpret its output.
This workshop will include lectures with numerous reinforcing hands-on computer workshop activities supervised by course instructors. Biomechanics principles will be reviewed, but this should be refresher information for attendees. Enrollment will be limited to ensure that all attendees will have access to a computer throughout the course.

Presented by:
The University of Michigan
Center for Occupational Health and Safety Engineering
University of Michigan faculty and staff presenters:
Don B. Chaffin, Ph.D., CPE
Sheryl S. Ulin, Ph.D., CPE
Charles B. Woolley, M.S., CPE
Program Objectives
At the conclusion of this program, the attendee should: know when and where the 3D SSPP™ can be applied; know what workplace information is needed to use the software and how to collect it; know how to operate the 3D SSPP™; and be able to interpret the output from the program.
Who Should Attend
This course is intended for those who are responsible for the prevention of injuries and illnesses in the workplace, particularly safety and health personnel, industrial hygienists, physicians, nurses, workplace design engineers and management and labor representatives. This is not an introductory level program.
General Information
Registration
Course fee: $750.00
Fee includes course materials plus breakfast and lunch each day.
Advance registration is required and will be accepted on a first-come-first-served basis. The fee covers course materials, break refreshments and lunches. Cancellation notification must be received no later than April 29, 2020, in order to qualify for a refund, less $75.00 administrative fee. Substitute attendees are welcome. In the unlikely event that the program must be cancelled, the entire submitted registration fee will be refunded without further liability on the part of the organizers.

Extensive information about the 3D SSPP™ software can be obtained at http://c4e.engin.umich.edu/tools-services/3dsspp-software/.
For additional course questions contact us at ce.programs@umich.edu.
Location
This course will be held in Ann Arbor, MI at the Industrial and Operations Engineering Building (1205 Beal Avenue) at the University of Michigan. Map.
Lodging
A limited number of hotel rooms ($119/night) will be held at the Doubletree by Hilton Ann Arbor North (formerly Holiday Inn), 3600 Plymouth Road, Ann Arbor, Michigan. Please make reservations here, or contact the hotel directly at (800)800-5560 or (734)769-9800 by April 27, 2020, stating that you are a registrant for the 3D SSPP course. A shuttle from the hotel to the course site will be available. Attendees are responsible for making their own hotel arrangements and payment.
Parking
Hourly parking is available in Visitor Parking surface lots. Parking Map.
Computers
You may bring your own laptop to the course. You can download a two-week free trial version of the software onto your computer. Computers in the UM computer lab will also be available.
Accreditation
In the past, the University of Michigan has accredited this course as 1.3 CEUs approval is pending for 2020. This course contains 13.75 hours of technical contact time that can be claimed for CM credit.