Student and Alumni Testimonials
Learn about how our students' and alumni's experiences at the University of Michigan have impacted their career trajectories.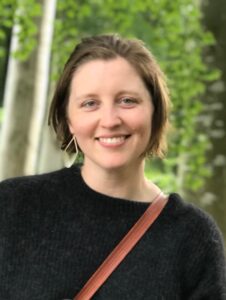 Sarah Hendricks, MSN (MSN '21)
As a nurse, Sarah frequently saw the impact of environmental and occupational factors on the health of her patients. She found the Occupational Health Nursing concentration to perfectly complement the Family Nurse Practitioner program and is excited to apply what she learned in her future practice.
Christian Lumaj, M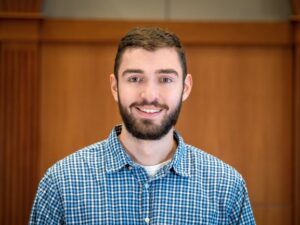 PH (MPH '21)
Christian's desire to protect the health of workers led him to choose the Industrial Hygiene field. After receiving his Master of Public Health degree, he plans to apply his knowledge through consulting or governmental work.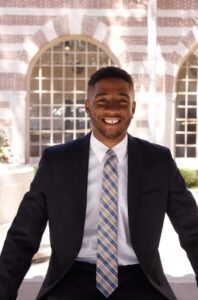 Quinton Shyteik Jenkins, MPH (MPH '21)
The Master of Public Health program provided Quinton with the research expertise and mentorship needed to develop a project aimed to mitigate a variety of adverse health outcomes experienced by vulnerable populations in Detroit, Michigan.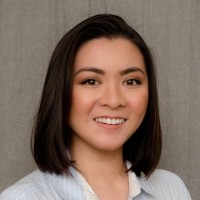 Andrea Guytingco, MPH (MPH '18)
After receiving her Master of Public Health degree in Industrial Hygiene, Andrea, worked at the Boston University Medical Campus and Boston Medical Center to work as an Industrial Hygienist. In January of 2020 she joined Takeda Pharmaceuticals as Environment, Health, and Safety Business Partner with a focus in Industrial Hygiene. There she is creating and managing a new Industrial Hygiene program for Cambridge, MA and managing EHS tasks for a lab focusing on large molecule biologics research and development.
Roger Lu, BS (MPH '15)
Since receiving his Master of Public Health (MPH) in Industrial Hygiene, Roger Lu has gone on to work as an industrial hygienist at BP.
Kristin Knuutila, MSE (MSE '14)
The Master of Science degree in Industrial and Operations Engineering exposed Kristin to a wide-range of ergonomic and safety principles. She plans to utilize this knowledge to help people to improve their work experience.
Ashley Tupper, MS, FNP-BC, RN (MSN '14)
The Occupational Health Nursing certificate program provided Ashley with the preparation needed to sit for the Certified Occupational Health Nurse-Specialist (COHN-S) certification. She intends to obtain this certification and to become a certified DOT Medical Examiner in the near future.
Feng-Chiao Su, PhD (PhD '13)
As a postdoctoral scholar, Feng-Chiao received funding from the Pilot Project Research Training (PPRT) program to study the relationship between occupational exposures and ALS.
Mary Ellen Hicks, MPH (MPH '12)
A desire to help people before they get sick prompted Mary Ellen to pursue a career in industrial hygiene. Since graduating with her Master of Public Health degree in 2012, she has lead various environmental, ergonomic and safety improvement programs.
Neal Wiggermann, PhD (PhD '11)
The PhD program in Industrial and Operations Engineering provided Neal with the knowledge and skills necessary to lead research and collaborate with design teams. He currently manages the new ergonomics laboratory at Hill-Rom, a medical device company.
Kevin Abernethy, CIH, CSP, MPH (MPH '10)
Since Kevin received his Master of Public Health degree in Industrial Hygiene, he has held several industrial hygienist positions with Chevron, both here and abroad, through which he has been able to live out his passion for protecting people and the environment.
Hien Q. Le, PhD, MPH (PhD '08)
Despite his humble upbringing in South Vietnam after the war ended, Hien Le went on to obtain a PhD in Occupational and Environmental Epidemiology and now works as an epidemiological researcher in industry.