Student Spotlight: Ana Turcu
Meet Ana Turcu!
---
Program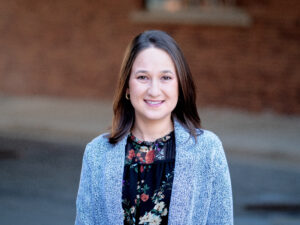 : Industrial Hygiene
Hometown: I was born and raised in Moldova. Moved to the U.S. in 2013.
Why did you choose to pursue your degree in Industrial Hygiene at the University of Michigan?
I believe that working in a safe and healthy environment is a basic right, and this right is not always afforded to everyone, as I have seen first-hand in Moldova. Industrial hygiene is inherently a collaborative field and the University of Michigan provides a great field to practice working alongside great professors and peers and developing a team-oriented environment. Being part of the MPH "family" has forced me to grow and expand my horizons driving a desire to be the best at what I do by engaging with professors and colleagues. These professional relationships are serving as a solid base for future contacts, which no doubt will come in handy when I will encounter an unknown hazardous situation in the workplace and need a different perspective to approach it.
What are your future career goals? (academia, industry, health care, etc.) 
I moved to the United States from Moldova in search of a better education and a broader range of academic areas than my country could offer me. I had already been pursuing my undergraduate degree in marketing in Moldova, and although I knew that moving to the United States would set me back a few years, I was determined to take advantage of this new opportunity.
So, after finishing the MPH in Environmental Health Sciences program, with an Exposure Science-Industrial Hygiene (ExS-IH) degree I plan to move to Missouri and start my job as part of the IH team at Boeing. My internship solidified my goals that earning a CIH and CSP license will be vital for me to establish as fulfilling a career as possible within industrial hygiene and safety. Two of my IH team members possessed the CIH license and they emphasized how much more mobility and job opportunity is available to me if I continued to learn about the many operations outside of the aerospace industry. Obtaining those licenses will expand my knowledge of the many processes I may come across within industrial hygiene and safety, and thus increase my chances to land future desired jobs.
One of my long-term dreams is to be able to consult for a Moldavian company to share my knowledge and expertise and help change and challenge the safety standards. It may sound cliché, but I saw first – hand how difficult it was to not have someone looking out for my safety in the workplace, especially in my first years as an immigrant; that is why I would never take safety for granted.
What has been the most impactful course you have taken at UM? If you cannot identify one–what is a lesson or message that has stuck with you?
EHS 796: Psychosocial Factors Impacting Occupational Health & Safety was a class that took me by surprise because it enhanced my understanding on how the work environment impacts the health of workers both inside and outside of the workplace. We went from exploring Total Workers Health approach to designing a worker interview & questionnaire (survey) in order to identify a/multiple psychosocial issues in the workplace, which ultimately broaden my understanding about workers heath.
Do you have any interests / hobbies that you'd like to share? 
Besides my educational pursuits, I enjoy hiking, going to museums and spending time with my family, friends and dog Milton.
Is there anything else you would like to share with us? (this is your time to brag!)
Since entering the Industrial Hygiene program at the University of Michigan in 2020, I have become the President of the University of Michigan Industrial Hygiene Student Association. In this role I have coordinated activities and events to further the members understanding of global and domestic occupational health.
My professional experience includes a rewarding summer internship with Boeing in 2021, which consolidated my career choice and culminated in a job offer with Boeing Defense in Missouri.
Learn more about our other featured students or the Industrial Hygiene program at the University of Michigan.