Student Spotlight: Cassie Gaskins
Meet Cassie Gaskins!
---
Program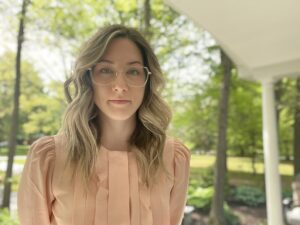 : Industrial Hygiene
Expected Graduation: May 2022
Hometown: Romulus, Michigan
Why did you choose to pursue your degree in Industrial Hygiene at the University of Michigan?
I chose to pursue a degree in Industrial Hygiene because work is one of the most important determinants of a person's health, and there are numerous challenges in addressing health and safety issues across working populations.
What are your future career goals? (academia, industry, health care, etc.) 
After graduation I plan to work in an industrial setting to gain experience as a practicing industrial hygienist. Eventually I may pivot back to academia to conduct research that helps characterize worker well-being. I want to help implement policies that are designed to improve total worker health.
What has been the most impactful course you have taken at UM? If you cannot identify one–what is a lesson or message that has stuck with you?
There have been many impactful and inspiring courses here at UM. The lesson that has stuck with me most is technical skills and competency is a foundation for this field but it is not the end, interpersonal skills and the ability to build trust is vital, it promotes approachability and makes people feel empowered to be open and honest about problems or concerns they are faced with.
Do you have any interests / hobbies that you'd like to share? 
My hobbies include cooking, going to concerts, boating/water sports and spending time with my partner Jeremy and son Carter.
Is there anything else you would like to share with us? (this is your time to brag!)
I am a Margaret Dow Towsley and SunTrust scholarship recipient, as well as the class of 2022's Robin Theeuwes award recipient. Lastly, I am a first generation college student.
Learn more about our other featured students or the Industrial Hygiene program at the University of Michigan.