Student Spotlight: Jason Golec
Meet Jason Golec!
---
Program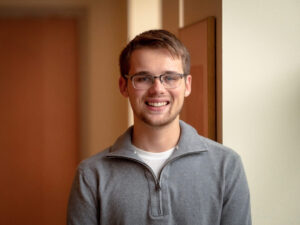 : Industrial Hygiene
Expected Graduation: May 2023
Hometown: Royal Oak, Michigan
Why did you choose to pursue your degree in Industrial Hygiene at the University of Michigan?
I graduated from the University of Michigan School of Public Health in 2019 and knew that the institution is highly advanced in Environmental Health Sciences and Industrial Hygiene. I love my home state! U of M is the only ABET-accredited institution in the state and I wanted to stay local and engage with the communities that are near and dear to my heart.
What are your future career goals? (academia, industry, health care, etc.) 
I'm still at a point in my career where I don't know what I don't know. My family has worked in the auto industry for three generations so I would love to continue this legacy and do industrial hygiene work for an automotive company. At the same time, it has always been my dream to live in Northern Michigan and particular industries, such as the mining/forestry industry, are very fascinating to me. In any case, I hope that an internship experience and networking with various industrial hygiene professionals will help me find the perfect fit within the field.
What has been the most impactful course you have taken at UM? If you cannot identify one–what is a lesson or message that has stuck with you?
Thus far, the most impactful course I have taken at Michigan has been "Evaluation of Chemical Hazards" taught by Dr. John Meeker. There is so much relevant information in this course that pertains to occupational health and safety. We are not only learning technical information about chemical hazards but we are also learning how that information applies to real-life situations in the workplace.
Do you have any interests / hobbies that you'd like to share? 
I am an avid outdoorsman. I love camping, fishing, hiking, and have recently taken up birdwatching. When I am indoors, I love watching old movies (I have seen every best picture winner since 1958) and baking. I am also a huge sports fan, I will live and die by my Detroit teams.
Is there anything else you would like to share with us? (this is your time to brag!)
After graduating in 2019, I worked at PM environmental where I did asbestos, lead, and radon consulting. What I am most proud of with my time at PM is creating and implementing our radon measurement protocols. Through my efforts, we tested thousands of residences for this deadly carcinogen and mitigated the risk for dozens of families. I also developed our training protocols for radon measurements and delivered the instructional presentation to our entire department.
I also have extensive experience in Motivational Interviewing. I took a MI training course during undergrad and applied this knowledge with internships at Covenant Community Care and University of Michigan Tobacco Consultation Services. I've learned that motivational interviewing is a very effective tool for encouraging behavior change, especially in a health and safety setting.
Learn more about our other featured students or the Industrial Hygiene program at the University of Michigan.